We create synergy by bringing our international management expertise to your learning programs
Do you sometimes wonder whether you are getting all the business and sales you could? And how can you find new customers and markets for your goods or services?
Perhaps you ask yourself whether you are bringing in the right people for your international projects? And if you are offering them the right training programs?
Do you ever question whether your departments and teams from operations, sales, marketing, human resources, or IT are working together for the most profits?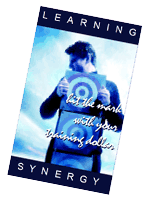 Look no further – because we can work together, learn from each other and create synergy to find and implement the best solution for your people! At Learning Synergy, our strength is always about delivering; delivering a quality output, within deadlines, and as agreed.
Here's how we have helped our clients to improve their bottom line numbers:
Increased productivity of systems and processes by development of employee's skills, knowledge and behavior, as well as learning management tools.
Reduced costs of travel and accommodation, as well as other training costs, through combination of traditional methods with the online support.
Reduced marketing costs by gaining in-depth customer and market intelligence; it increases the synergy of common operational decisions in the marketplace.