About Us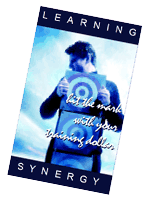 Learning Synergy is the brand for our management consulting services that brings synergy to corporate training and projects in higher education.
We are your one-stop shop when you're faced with challenges such as:
Maximizing return from your activities at the point of sale;
Customizing a training program for your sales people;
Managing a team of trainers and learning in your organization;
Developing programs and institutional standards in compliance with North American and European standards;
Project management for developing learning programs and institutional standards.
We can offer you solutions in our two areas of expertise:
Management of Learning: we create synergy for your virtual or mobile training team and for your educational projects at home and overseas.
Sales Effectiveness: we create synergy for the teams working directly with your customers in the marketplace.
We can help, especially if you are:
A corporation ready to change the way things are done, and needs its teams trained to be able to do that. How about increasing effectiveness of your sales activities?
A business looking to outsource the management of its global training activities. Why not use us for the start-up stage?
A school in need of strategic partnerships with international accreditation bodies to enhance the quality of the learning offering. Would Canadian expertise work for you?
Every challenge you have is a project for us; some challenges are new, some are well known. Our project management approach has four steps that are simple and effective:
1. LISTEN
We meet and listen when you tell us about your projects, objectives, challenges, and types of solutions you want.
2. INTERACT
We work and interact with your teams and its managers. We interact with and listen to your customers.
3. LEARN
We learn your way of doing things; when we can do something, we then offer you the opportunity to learn from us.
4. SYNERGY
Sometimes we're not listened to… but if you do want to listen, then we are ready to work with you and create that synergy when implementing best solutions!